Sometimes I get stuck in a 'mommy rut'. When I'm in these ruts, I am extra hard on myself, and not happy. When I'm extra hard on myself & not happy, that means I'm not the mom I want to be for my cute girls.
(please tell me I'm not the only mom that gets this way sometimes!)
I'm
not
here to say I've found a magical potion that will completely take away your mommy rut, but I am here to tell you about something I have found that helps me when I get stuck in this mind trap I set for myself.
Are you ready for it?
Here it is...
Confused??
Let me explain.
One mom
(a mom just like you & me)
heard someone say that we think over 300 negative thoughts a day. She wanted to know if that was true, so she held a personal experiment. She got a clicker and started counting. After a week of clicking for each negative thought, she felt down right depressed!
She knew something had to change, so she changed her experiment.
She started clicking for each of her positive thoughts. She felt more motivation, strength & confidence than she had ever felt before. Once she realized the change this was in her life, she decided to share this confidence & optimism with the world. Hilary Weeks
(yes, the singer)
then started
billionclicks.org
.
I love this website. They sell the clickers (& other inspirational products) and they give you a place to log your clicks. Their goal is to reach a billion clicks!
So, now when I get stuck in my 'mommy rut', I just pull out my clicker. Sometimes I click for each positive thought, but other times, I set different goals for myself so I can reach my ultimate goal of being a more attentive, loving & happy mom.
Do you feel like you need a boost as a mom? Here are some ways you can encourage yourself by clicking:
Click every time you...
compliment your child
give your child a hug
stop yourself from yelling at your child :) (and give yourself a big pat on the back for that one!)
spend 15 uninterrupted minutes with your child
think of something you're grateful for (kind of a mental gratitude journal)
think a positive thought
And because Hillary & BillionClicks.org is that great, they want to offer TWO of you a clicker!
I'm really excited about this giveaway because it's not just a prize you are getting, it's a game changer - something that will help you to live a happier life! Now that's something to be excited about!
She's also offered my readers a discount code... WAHOO!!!
(I love me a good deal!)
Just enter the code 'strong14' to get 15% off your order through the month of April.
a Rafflecopter giveaway
PS - In case you're wondering, I've had 200 clicks so far!
For more ways to train your mind to be more grateful, click here.
And if you want one of their buttons for your blog, just grab the code below!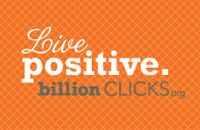 <a href="http://www.billionclicks.org/"><img
src="http://i1248.photobucket.com/albums/hh486/billionc/bc_button_orange.jpg" border="0″></a>